Four men's lacrosse teammates from Westminster College, Pennsylvania have recently started their overseas adventure together as they continue playing lacrosse alongside studying a masters degree!
Teammates Ryan Shorts, Matthew Trella, Reid Lutz and Alex Kennedy recently arrived in England to start their overseas adventure together at Bournemouth University.
After a fantastic senior season, Ryan, Matthew, Reid and Alex decided they did not want their lacrosse careers to come to an end, so reached out to Play Overseas with the dream of remaining teammates for one more season back in January. We presented the graduates with a number of different options in which they could attend the same university and continue to play lacrosse at a high level as teammates. After collectively deciding that Bournemouth University would be the ideal fit for them both on and off the field, we assisted in the application process and supported them throughout.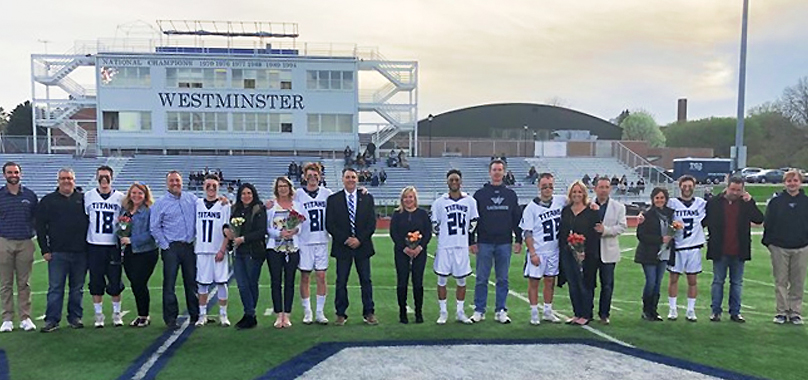 Pictured above: Ryan Shorts, Carter Hall, Reid Lutz, Matt Trella, Alex Rollo-Smith and Alex Kennedy were all honored before their senior night as the first senior class in the history of the men's lacrosse program. Behind First Team All-Conference midfielder, Ryan and PAC Defensive Player of the Year, Carter Hall; the Westminster team finished runner-up in both the PAC Tournament and the Eastern College Athletic Conference (ECAC) Tournament.
As well as enjoying one more season of lacrosse together as teammates, the Westminster College graduates will be pursuing their masters degrees in a variety of subjects including Business, Marketing and Finance.
"I never imagined having an opportunity to play lacrosse after college. Play Overseas do an exceptional job at communicating and making sure us American athletes are up to speed with the international process of admissions. After connecting us with some of the best universities in the United Kingdom, they formally introduced us to various coaches so that we could expand our choices of where we would like to go! I have all the appreciation in the world for Play Overseas for giving my Westminster teammates and I a great direction after college to gain a master's degree and take a huge step out of our comfort zone!"- Matt Trella
We are very proud of all our graduates who have taken this huge step to spend a year overseas and can't wait to follow their adventures. If you would love to pursue your sporting passion whilst working towards a masters degree, apply online today via the link below and explore the opportunities that may be available to you!
APPLY ONLINE